PIGLETTE

This is a pimped version of the fuzz-cirquit that was used in the "Piggle".
It's very nasty.
Allthough it can sound sweet on some instruments, most of the time it's just awfull.

A lot of time was spend tweaking it to perfection & this is definately the best version. It's just a matter of finding the right moment to use it....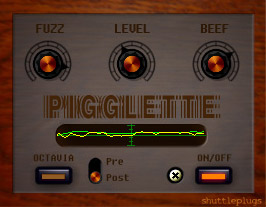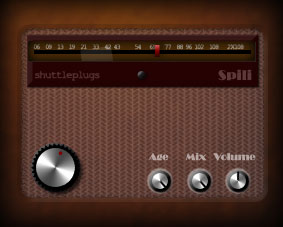 SPILI

Spili is a lo-fi/filter effect.

sample - drumloop (first clean, then with spili, tweaking the controls)
Ringelay

Ringelay is a delay effect that applies ringmodulation to the repeats (not like the Vrek, where the input signal is ringmodulated with delayed repeats of itself).
There's also an LPF & reverb that affect the repeats only.


New in v1.2: improved LFO section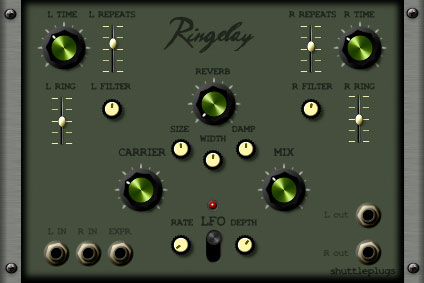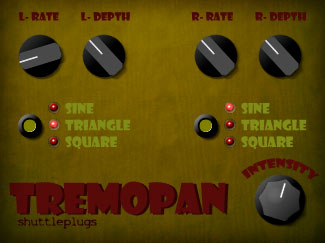 Tremopan

Two tremolo's (one for each stereo channel) to create a more complex stereo image than regular autopanners do.

Sahulo

Dual sample & hold filter to create stereo random filter steps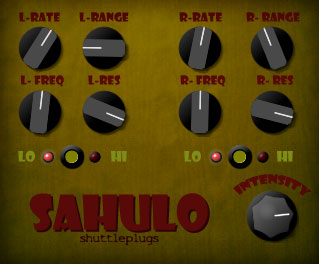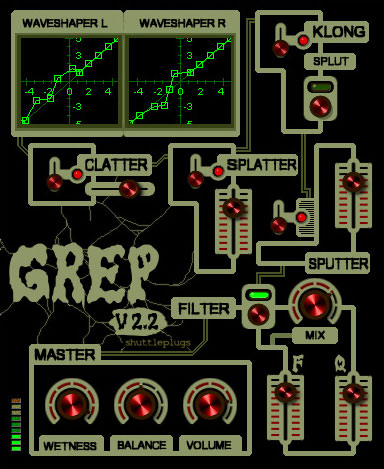 Grep2.2

Audio-destruction-unit / fuzz-machine.

New in v2.2: improved CLATTER cirquit

(I've been watching a lot of 50's B-movies lately, that's probably where the cheapness of the interface comes from)

Timeframe 1.3
This is an LFO-controlled delay-effect.
A simple concept with interesting results....
New in v1.3: ID bug fixed
New in v1.2: added "sluggg" feature wich increases the maximum delay-time, creating a more dramatic sweep
(if anyone would like the original version, by all means download it here)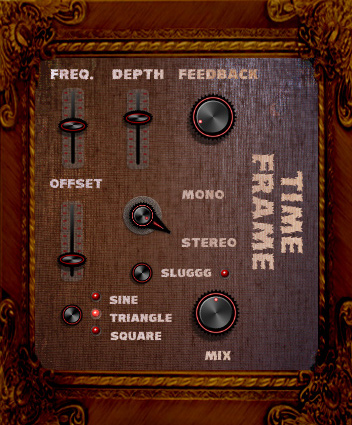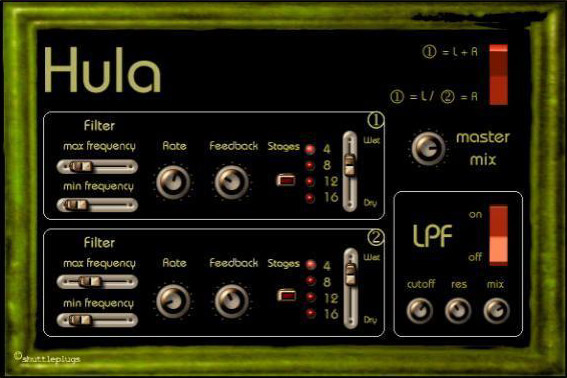 Hula

Hula is a dual phaser. It can produce very interesting stereo-effects.
Unlike most stereo-phasers it doesn't pan back & forth, but each channel has it's own phaser.
There's also an optional lowpass-filter at the end, to smooth out the highs.

Hulo
Hulo is an LFO-controlled filter effect.
There's two stereo-modes: one where both channels are sweeped by the same filter & one where each has it's own.
The LFO rate can be dialed in manually or synchronized with the tempo of your track.
The filter of the hulo is relatively subtle in nature. I also have an older version that looks & works the same, but uses a lowpass filter. If you are interested in this version, mail me & I'll send it to you.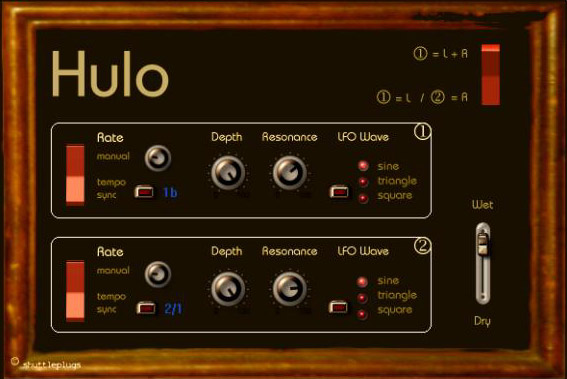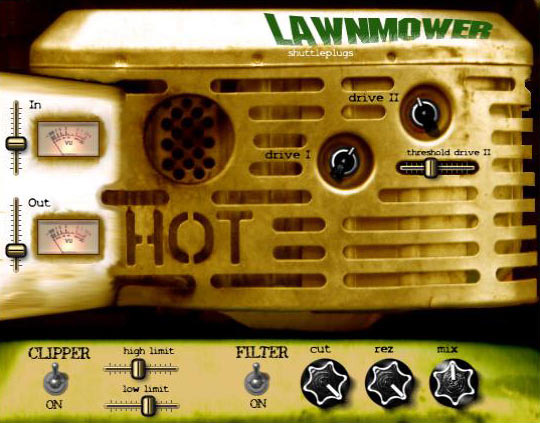 Lawnmower
A very flexible drive-unit.
From subtle breakup to more extreme fuzz-type sounds.
It's great at distorting drums, synths & even vocals.

There's also an alternative version. It has a different filter. The filter of the original lawnmower sounds smoother, but uses a lot more CPU. So this version is a nice solution for those effect heavy tracks....


Spattle

A simple spacer-plugin.
Sounds very nice on 60's organ-sounds.

download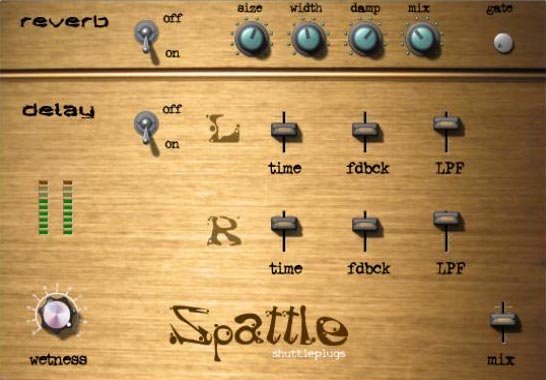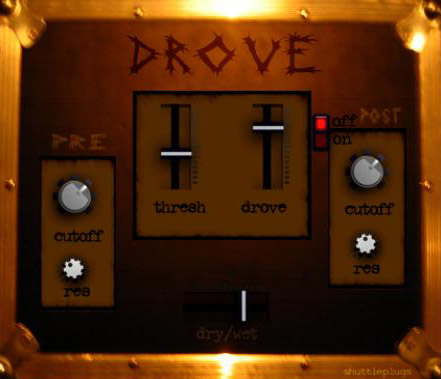 Drove
This is an overdrive designed specifically for drums. It's also nice on electric piano-type synths.
It uses a VCF that let's you control the range of frequencies going into the drove & has an optional low-pass filter at the end for smoothness.

Vrek

This is a weird experimental lofi/delay effect. Well, actally it's a ring-modulator that uses a delay of the incomming signal as carrier frequency. Only the repeats ring-modulate your sound, so it sounds like a delay that interferes with your signal.
The one knob in the middle controls the delay time.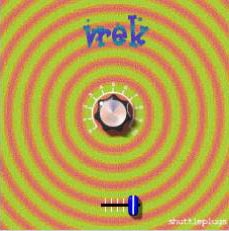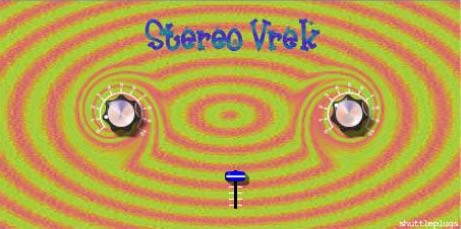 Stereo Vrek
Two vrek's, one for each channel.
Just like the vrek, this sounds best when used as an insert-effect.

Drom
Noise-box, it turns your signal into a soundscape of weird textures.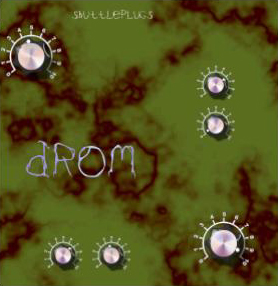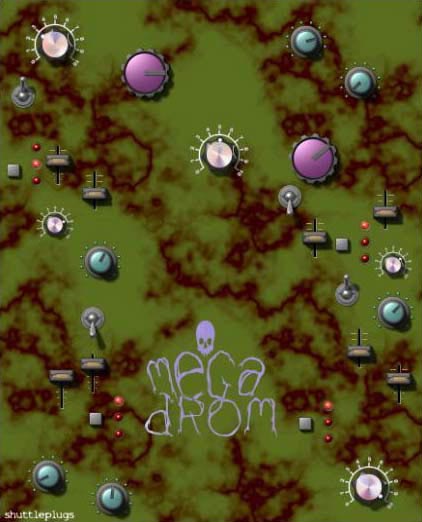 MegaDrom
This is an extended stereo-version of the drom.
It turns your signal into a layer of noise, blips & splatter. Lots of fun for real-time tweaking. With subtle mix-settings it can also be used to add some modulating texture to a track.
The most drastic effects are achieved by using this as an insert effect (enables to totally take out the dry signal)

download